Want to try one of the best Low-carb Chicken Recipes? Then, today is your lucky day. As you can see, this Skillet Pecan Chicken is soo delicious that you won't hesitate to add it to your dinner menu once you try.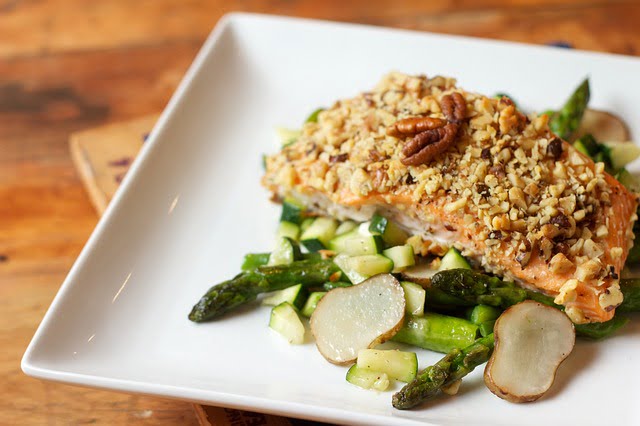 However, this recipe will spice your dinner with all the flavors you need in one bite and satisfy you 100%. Imagine eating chicken breasts coated with pecan and parmesan cheese crust. No doubt it's tasty!!
Now, let's talk in keto, what makes that special Low-carb Chicken Recipe ideal for keto followers??
Let's see;
1 cup pecans —- 4 gm carbs.
1 cup parmesan cheese —- 2.5 gm carbs.
Chicken breasts —- 0 gm carbs.
Olive oil —- 0 gm carbs.
Then, the total amount of carbs for this recipe is 6.5 gm (not per serving).
Nutritional information;
Servings; 4 servings.
Total calories; 1730 calories.
Calories/serving; 432.5 calories.
Total time; 30 minutes.
Preparation time; 15 minutes.
Cooking time; 15 minutes.
Check out more keto recipes, ;
Check out our latest vegetarian diet posts:
Ingredients:
1 cup ground pecans.
4 halves of boneless chicken breasts.
1 cup grated parmesan cheese.
2 tbsp olive oil.
1 tsp garlic salt.
1 tsp crumbles leaf basil.
Lemon juice.
Instructions:
Beat the boneless chicken breasts to make it flat and even in thickness.
Soak the chicken breasts in lemon juice for 15 minutes.
In a large deep dish, mix parmesan cheese, garlic salt, leaf basil, and ground pecans.
Coat the chicken breasts with the pecan and cheese mixture.
In a skillet, heat the olive oil moderately.
Cook the chicken breasts for 3-5 minutes each side or until it becomes brownish-gold.