Ran out of keto lunch ideas? No problem, try this delicious CREAMY TUSCAN GARLIC CHICKEN. This meal is an easy, quick keto lunch idea to be prepared for work.
This recipe promises that it will fill your lunch with various tasty keto flavors. No need to mention how the creamy taste gives a comforting feeling to your meal.
But what about calories? If you are still new in the world of keto, counting calories, worried about eating massive amounts of fat with a huge number of calories, then, this recipe is just for you.
As you can see from the nutrition facts below, calories from fats are not passing 400 calories. So, you can treat this meal as an ordinary lunch meal that has its normal calories.
And for now, let me show you what exactly are you entering your body when having this meal as a lunch.
For more keto diet recipes, check these out, you will love them;

NUTRITION FACTS:
Calories 368Calories from Fat 225% Daily Value.
Fat 25g38%.
Saturated Fat 12g60%.
Cholesterol 133mg44%.
Sodium 379mg16%.
Potassium 821mg23%.
Carbohydrates 7g2%.
Fiber 1g4%.
Sugar 4g4%.
Protein 30g60%.
Vitamin A 1231IU25%.
Vitamin C 8mg10%.
Calcium 150mg15%.
Iron 2mg11%.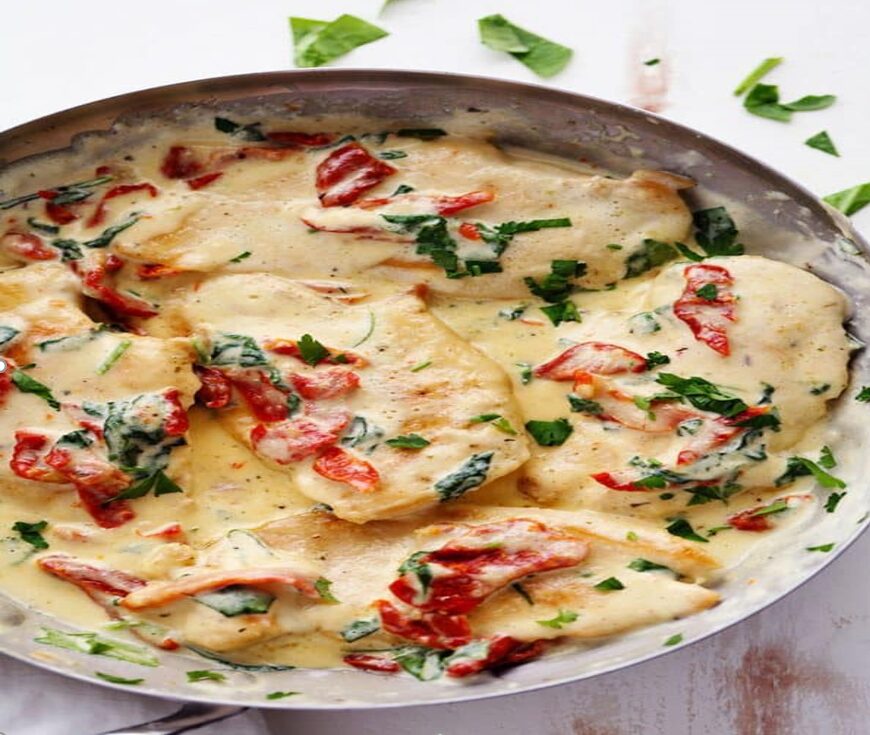 Check out the latest posts;
INGREDIENTS
1/2 cup sun-dried tomatoes
1½ pounds boneless, skinless chicken breasts thinly sliced.
2 Tablespoons olive oil.
1 cup heavy cream.
1 teaspoon Italian seasoning.
1/2 cup up parmesan cheese
1/2 cup chicken broth
1 teaspoon garlic powder.
1 cup spinach chopped.
DIRECTIONS
First, In a large skillet, you will add vegetable oil and cook the chicken on medium-high heat for 3-5 minutes on all sides or until turn brown on all sides and cooked until not pink in center. Remove chicken and put aside on a plate.
Add the cream, garlic powder, chicken stock, Italian seasoning, and parmesan cheese.
Add the spinach and sundried tomatoes and let it simmer until the spinach starts to wilt.
Add the chicken back to the pan and serve over pasta if you want.