Can't wait to share this QUICK KETO FRITTATA RECIPE WITH CHEESE. It's soo delicious, as obvious from the pictures.
For those who know me, know that I love any meal that smells, tastes, or even looks like pizzas.
The second thing I love in delicious recipes is that it's fast to prepare and cook. You see, when I am hungry, I am hungry now, and would like to eat now, not after 2 hours.
So this recipe is perfectly following my rules, Moreover, it's the perfect recipe for a lazy keto breakfast.
And now, let's start, but before that, check out these keto recipes for breakfast and lunch that will fill your keto diet with flavors;
INGREDIENTS;
6 large eggs, free-range or organic.
2/3 cup cherry tomatoes, halved (100 g / 3.5 oz).
1 tbsp ghee (you can make your own).
1/2 medium white onion (55 g / 1.9 oz).
2/3 cup soft cheese like feta, crumbled (100 g / 3.5 oz).
2 tbsp freshly chopped herbs such as chives or basil.
salt to taste (I used pink Himalayan).
freshly ground black pepper.
Check out the latest posts;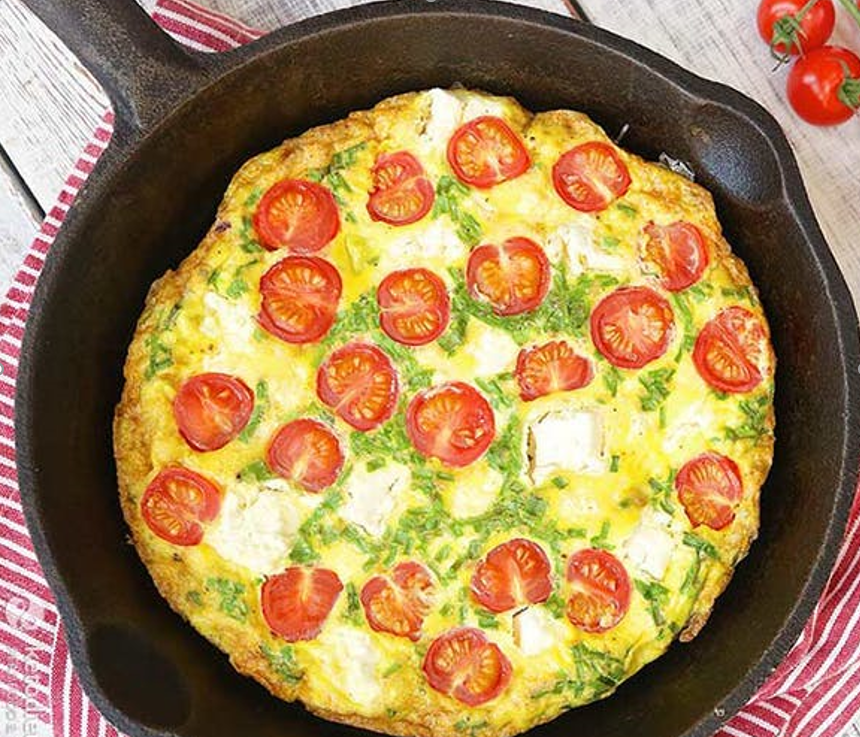 DIRECTIONS;
Firstly, you will Preheat the oven to 200 °C/ 400 °F.
Peel and slice the onion.
Place on a hot pan greased with ghee and cook until lightly browned.
Crack the eggs into a bowl and season with salt and pepper.
Add finely chopped herbs (I used chives) and whisk well.
When the onion is browned, pour within the eggs and cook until you see the sides turning opaque.
Top with the crumbled cheese and halved cherry tomatoes.
Place under the broiler and cook for 5-7 minutes or until it's cooked well.
Remove from the oven and put aside to chill down.
Serve immediately or store within the fridge for up to five days.
NUTRITIONAL FACT;
Calories 435 kcal.
Net carbs 6.2 grams, Calories from carbs 6%.
Protein 26.7 grams, protein 25%.
Fat 32.6 grams, fat 69%.