Diet is one of the most essential parts of diabetes care and maintenance programs to insure blood sugar control. Using the diabetic exchange list of foods is an exceptional way to guarantee a healthier meal each time. It likewise helps broaden your choices when preparing or selecting a menu.
What is the Diabetic Exchange List of foods?
The diabetic food exchange diet is a system that comprises the structure of your personal diabetes meal plan. eg. forming a diabetic exchange list of foods for 1200 calorie diet.
It is beneficial specifically if you're trying to find variety in your diet plan without removing the necessary elements that are required for your condition.
By doing this, you can take a look at several kinds of foods available, and after that decide which ones to utilize for a specific meal without stressing you might be using the incorrect type of food or food mix.
How to use the diabetic exchange list?
In the diabetic food exchange list, foods are grouped into numerous standard types— fruits, dairy and dairy products, starches, meat and meat alternatives, sugars, etc.
The exchange list will inform you just how much of each food in each group you can eat while preserving your daily suggested calories as calorie information consists of each food portion.
Each food on the list is called an "exchange" and the system will direct you in figuring out which foods equal 1 exchange.
It's easy to substitute one food for other because the exchange list will suggest which foods have the same nutrients, carbohydrate, and calorie content.
If you switched a certain food with another, you get the same nutrients offered by the original type you replaced.
Why it's helpful to use the diabetic food exchange list?
The diabetic food exchange list will help you measure food, despite which group it belongs to. 
You won't require the assistance of a nutritionist or dietitian for every action along the method. 
Long-term usage of the exchange list will train you to understand how to make great estimates of the ideal serving size of any food that might be readily available to you at any given minute. 
Whichever you select, you will get the exact same nutrients.
Check out this video on how diabetic diet exchange list works, and why it is important for each diabetic to know about it.
6 Diabetic exchange diet apps that are extremely helpful
Surprisingly, there are many apps out there that can help you come up with your own tailored diabetic exchange diet plan.
Here are some examples on how to build your own food exchange diet list:
Medical ID.
MyFitnessPal.
Carb Manager.
Calorie Counter and Diet Tracker.
Figwee Visual Food Diary.
Calorie Counter by FatSecret.
To know more about this applications, check this post on everyday health.
Food exchange diet planner
Vegetables
Nearly all vegetables might be included in the diabetic exchange list. One exchange is about half a cup of cooked or raw veggies, which includes carbs and protein.
When used with salad dressing include 1gm fat exchange.
Related; Why do non-caloric sweeteners fail in weight reduction
Carbohydrates
Carbs are an essential part of any diabetic diet plan since they are your body's major source of energy.
Here is a list that will benefit you on diabetic carb exchange diet.
Approximately half of your day-to-day calorie intake need to come from this food group.
Any of these foods might be exchanged or switched, depending on your needs or choice:
1/2 hotdog or burger bun = 1 piece of bread.
1/3 cup of prepared pasta = a single 5-inch pancake.
3/4 cup cereals (unsweetened) = cup cooked oatmeal or grits.
1 tortilla = 6 little saltine crackers = 15 pcs. of fat complimentary corn chips.
1/4 bagel = 1/2 pita bread.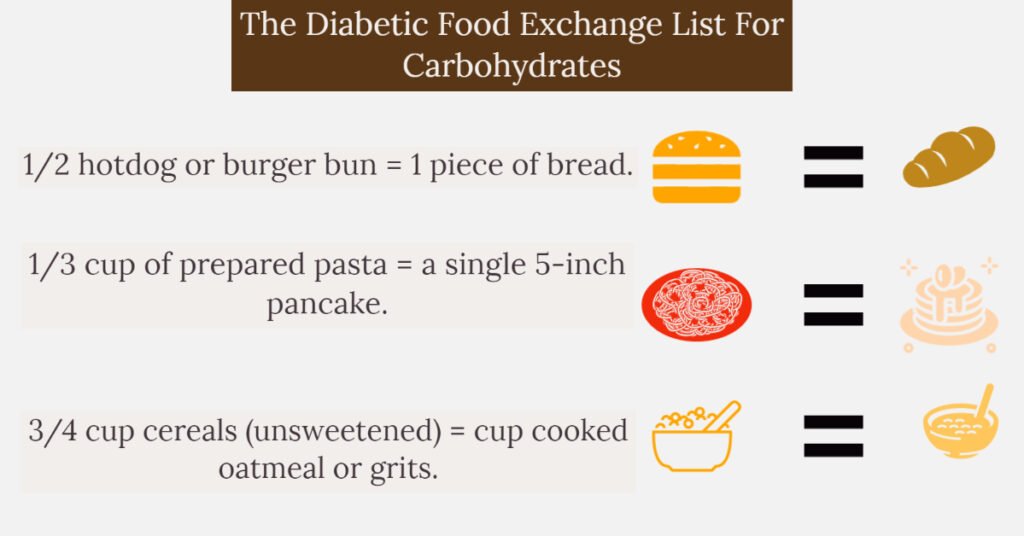 Check out our latest vegetarian diet posts:
Fruit
Fruits can be an outstanding source of fiber, water, and natural sugar. The fruits listed below comprise about 60 calories, each with almost zero fat.
1/4 cup watermelon. 
1/2 cup of berries.
1/3 small cantaloupe. 
1/2 cup of pineapple or apple juice. 
1/3 cup grape juice.
1/2 banana
1 little apple.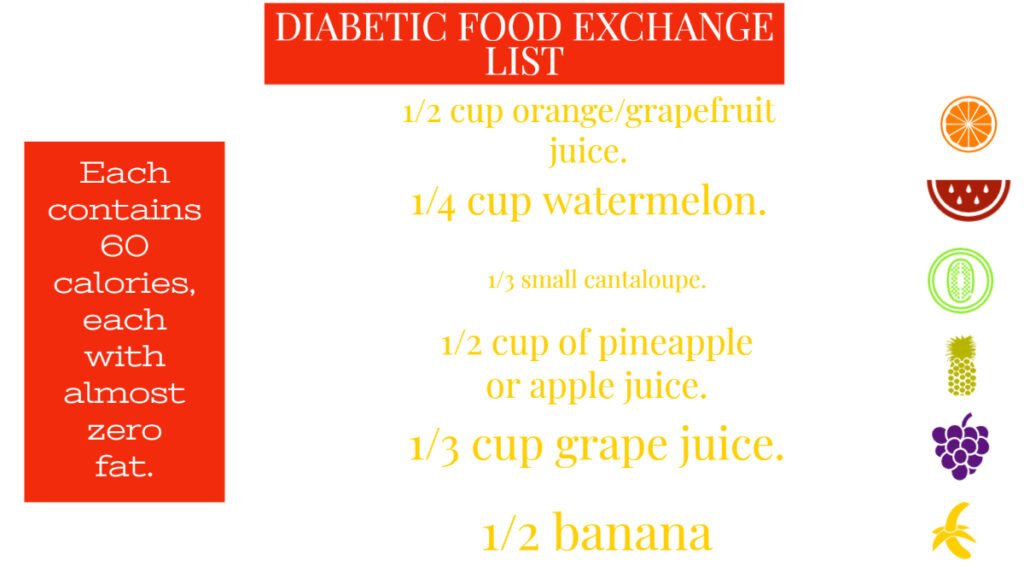 4- Meat
Meat is a crucial source of protein. Choose only lean meats and skinless parts for poultry. High-fat meats can increase your cholesterol level.
oz. tuna = 1 egg or 2 egg whites = 1 oz. ground beef = 1 oz. of low-fat cheese or home cheese
1 oz. of fish = 1 oz. of dark meat poultry (skinless) = oz. lean pork = 1 oz. lean beef.
5- Milk and Milk Products
2/3 cup of fat totally free yogurt or 3/4 cup of yogurt sourced from 2% milk.
1 cup nonfat or skim milk or 1 cup 1% milk (2% milk will also do).
6- Sugary foods
The foods below are an excellent source of both carbohydrates and fats but they can also be fantastic for your dessert in case you have the yearning.
1/3 cup low fat frozen yogurt or 1/2 cup ice cream.
1 2-inch square brownie or 2 small cookies or 1 granola bar.
Related; How To Avoid Sugar Spikes That Make You Gain Weight.
More Details On The Diabetic Food Exchange List:
There are listings of food exchange lists readily available on websites such as diabetes exchange food hub free of charge, however, if you want a more comprehensive exchange list, you can likewise choose to buy them.
Also, you can check out their detailed list here.