Need a Low-carb smoothie recipe to help you refresh your keto diet, then try this BLUEBERRY BANANA SMOOTHIE. With only 3g net carbs you can have your best smoothie ever. Not to mention, that recipe is rich in healthy fats as the ingredients include flaxseed rich in omega 3 and MCT oil used in Bulletproof coffee to boost your brain health.
In fact, it's more like a Bluebbery smoothie as I only used the banana extract instead of whole bananas to boost the fruit flavor.
Check more keto recipes:
Ingredients: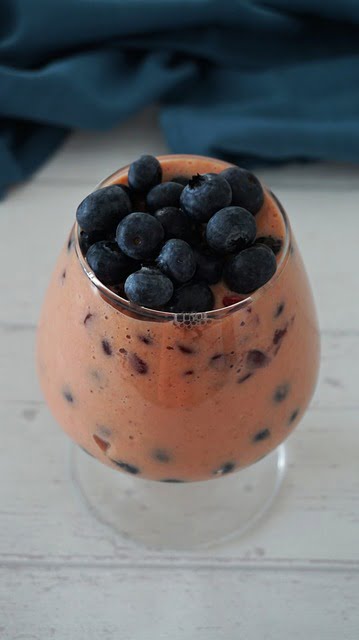 BLUEBERRY BANANA SMOOTHIE Preparation
Mix 2 cups of unsweetened vanilla coconut milk with 7 ice cubes, 1 1/2 tsp. Banana Extract and 10 drops of liquid stevia.
Transfer the mixture to the blender.
Add in 1/4 cup blueberries.
Measure out 3 tbsp. Golden Flaxseed Meal and add it to the mixture.
Measure 1 tbsp. chia seeds and also add in it.
Wait for a few minutes before I blending
Then blend for 1-2 minutes or until all ingredients are fully mixed.
Measure out into servings and enjoy!
With this ingredients you can make 2 servings.
Per serving, this comes out to be 264 Calories, 25g Fats, 3g Net Carbs, and 4g Protein.
Check out our latest posts: