Need another mouthwatering keto breakfast recipe? Then try this BEEF BACON CHEDDAR CHIVE OMELETTE. This recipe will give you a new idea about how delicious your omelette can be.
With only 1gm net carb per serving, you will still have a plenty of carbs left for you to enjoy in the rest of your meals.
Fortunately, this recipe doesn't have gluten, which makes it a perfect choice for a gluten-free breakfast.
THE PREPARATION
2 slices Beef Bacon, already cooked.
1 tsp. Bacon Fat.
2 large Eggs.
1 oz. Cheddar Cheese.
2 stalks Chives.
Salt and Pepper to Taste
THE EXECUTION
Make sure you have all of your ingredients ready to go as the omelet will cook quickly.
Shred the cheese, pre-cook the beef bacon, and have the chives chopped (or use herb scissors if you're lazy like me).
Heat a pan with bacon fat in it to medium-low heat. You want it emitting a decent amount of heat when you hover your hand above the pan.
Add the eggs, and season with chives, salt, and pepper.
Once the edges are starting to set, add your beef bacon to the center and let cook for 20-30 seconds longer.
Turn the heat off on the stove.
Add the cheese on top of the beef bacon, making sure it's centered.
Then, take two edges of the omelet and fold them onto the cheese.
Hold the edges there for a moment as the cheese has to partially melt to act as a "glue" to hold them in place.
Do the same with the other edges, creating a burrito of sorts,
Flip over and let cook in the now warm pan for a little longer.
Serve with a bit of extra cheese, beef bacon, and chives on top if you'd like – but by itself, it's just plain delicious.
This makes 1 serving of BEEF Bacon Cheddar Chive Omelette.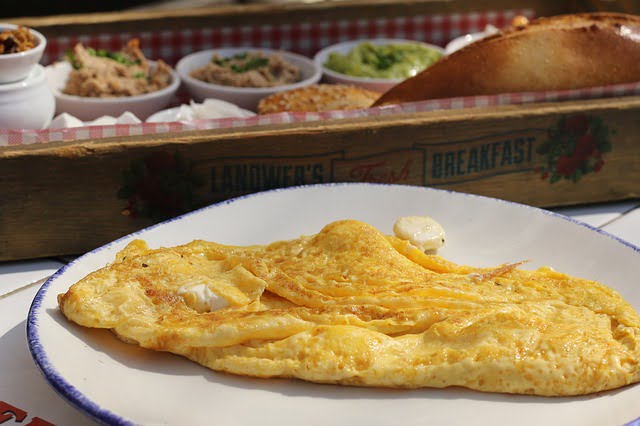 Nutritional facts of BEEF Bacon Cheddar Chive Omelette
463 Calories.
39g Fats.
1g Net Carbs.
24g Protein.
Want another keto recipes? try these recipes, you will love them;