The recipe for today is a gluten-free keto-friendly with a raspberry flavor called RASPBERRY KETO GRILLED WAFFLES.
It's only 7 gm carbs per serving… not too low-carb but still within keto range.
THE PREPARATION:
The Waffles
1/2 cup Almond Flour.
2 tbsps. Flaxseed Meal.
1/3 cup Coconut Milk
1 tsp. Vanilla Extract.
2 large Eggs.
1 tsp. Baking Powder.
2 tbsp. Swerve or any non-caloric sweetener like sativa or erythritol.
7 drops Liquid Stevia
The Filling
1/2 cup raspberries.
Zest of 1/2 Lemon.
1 tbsp. Lemon Juice.
2 tbsp. Butter.
1 tbsp. Swerve or any non-caloric sweetener like sativa or erythritol.
3 oz. Double Cream Brie.
Want another keto recipes? try these recipes, you will love them;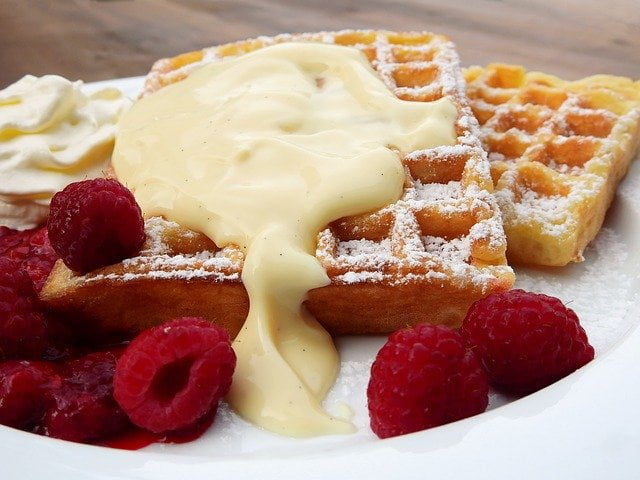 THE EXECUTION
Mix together all of the ingredients for the waffles in a container. Make sure that the consistency is smooth and there are no lumps.
Heat a waffle maker (I use this waffle maker) and once hot, add your batter.
Allow it to cook until the light turns green or the steam levels are low.
Take the waffles out and allow them to cool slightly.
Slice your brie and lay on top of the waffles while still warm so that the brie comes to room temperature.
In a pan on the stove, heat butter and swerve. You can powder the swerve in a spice grinder.
Once the butter is starting to brown and the swerve is dissolving, add your raspberries, lemon juice, and zest of 1/2 lemon.
Continue to stir the mixture until it bubbles and becomes jam-like.
Under the broiler, broil the brie until melted and the waffle slightly crisp.
Assemble the waffle together with the raspberry filling and the brie. Put into a pan and "grill" for 1-2 minutes per side.
Enjoy this delicious treat, or share!
This makes 2 servings of Raspberry Brie Grilled Waffles.
Nutritional benefits of RASPBERRY KETO GRILLED WAFFLES;
Each serving comes out to be:
489 Calories.
39.5g Fats.
7g Net Carbs.
21g Protein.